Tuesday, 6 October 2015
New Update - Edmonton Cemetery
Mood:
energetic
Topic: Updates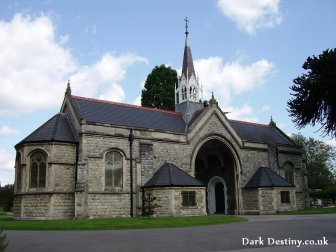 Edmonton Cemetery in North London opened in 1884 and is still open for new internments today. The land originally belonged to the Church Commissioners and was once used as an airfield.
A long straight drive from the entrance leads to the stone mortuary chapels which are linked by a carriage arch mounted with a spire.
http://www.darkdestiny.co.uk/edmonton-cemetery.html
As Summer ends, so Autumn begins, my favourite time of year. If the sun is still shining then it make for some great colourful photos. We still have a few places left on our list to visit before the grey months of Winter arrive, so keep checking back.
Best Wishes
Neil
Posted by mindpotion Network at 2:39 PM BST
View Latest Entries