Sunday, 29 November 2015
New Update - Adath Yisroel Burial Ground
Mood:
bright
Topic: Updates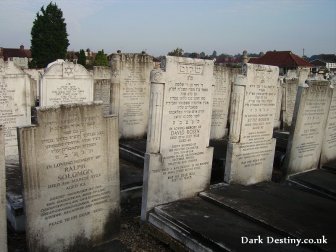 The Adath Yisroel Jewish Burial Ground is located in Carterhatch Lane, Enfield, London. While not in our usual vein of Victorian interest it is a fascinating and atmospheric burial ground especially in the early morning light with the winter sun still low in the sky.
Historic information on this burial ground seems almost non-existent and just about the only information we can gain is that it appears to date from the 1920's or before.
http://www.darkdestiny.co.uk/adath-yisroel-burial-ground.html
Many more updates in the pipeline.
Best Wishes
Neil
Posted by mindpotion Network at 1:21 PM GMT
View Latest Entries