Friday, 10 July 2015
Freedom of Panorama is saved!
Mood:
bright
Topic: News

In the words of Nico Trinkhaus who started the petition to save our photographic rights;
10 Jul 2015 — Your voices have been heard by the European Parliament and by the European Commission! After handing over the half a million signatures on Wednesday, the parliament voted yesterday with a big majority against any restriction of the Freedom of Panorama!
When I handed over the petition to MEP Julia Reda, she was "overwhelmed by the responses to the petition" and stated that "the petition has changed the debate in the parliament considerably and a lot of the parliamentary groups that originally voted for a restriction of Freedom of Panorama are clearly changing their mind about this."
And the debate changed indeed – even MEP Jean-Marie Cavada, who started everything with his proposal of restricting the Freedom of Panorama in the first place, called upon the other members of the Parliament to vote against his own amendment. Many politicians brought the Freedom of Panorama up in the debate and mentioned that they've received "hundreds of e-mails and letters" from concerned people – from you!
Also the European Commission gave a clear statement by Commissioner Günther Oettinger that they "don't intend to restrict the Freedom of Panorama". Instead he says that "what you can see with your eyes as a citizen, on public places and streets in Europe, you should be allowed to also photograph it with a camera."
The primary goal is accomplished. The parliament voted under applause that the existing Freedom of Panorama is not taken away from anybody and we can all take a deep breath. However, we do not forget about photographers from France, Italy and other countries that currently don't enjoy this Freedom. We hope that the European Commission understood that this essential freedom has to apply all over Europe and we will closely monitor the proposal for the copyright reform by the European Commission that is due by the end of the year.
I thank you all for raising your voices and I'm glad that the parliament listened to our concerns!
Wednesday, 1 July 2015
The Freedom of Photography is at Risk
Mood:
d'oh
Topic: News

Sites like Dark Destiny Photography are now under threat from the EU. Please read below and consider offering your support, many thanks!
On 9 July 2015, the European Parliament might destroy photography.
The Freedom of taking photos in public places is under attack. Until now, in most countries in Europe you were safe to take and publish photographs that are taken from public ground – This is called Freedom of Panorama. When you were on vacation, you could take a photo from the London Eye and share it with your friends on Facebook*. If someone wanted to pay you for using this photo, that was okay as well. But this is about to change may destroy photography as we know it.
Julia Reda, member of the European Parliament, tried to bring the Freedom of Panorama to all countries of the EU, as few countries like France and Italy don't have such law yet. In the majority of countries such as the UK, Spain, Portugal, Germany, Netherlands, Poland, Czech Republic, Slovakia, Hungary, Austria and Croatia, you're safe to take, publish and sell photos of public buildings when taken from public grounds.
However, the current draft turned the proposal upside down. Instead of bringing the Freedom of Panorama to the few countries that don't know such law yet, it would take it away from all those who do. With this, Street-, Travel- and Architecture-Photography would be dead as we know it. It is impossible to find out the architect of every public building in order to ask for permission before you can publish and possibly sell the photo.
I therefore call on the members of the European Parliament to
Not limit the Freedom of Panorama in any way
and instead to
Bring the Freedom of Panorama to all member states of the EU
so that the European Citizens can be assured to act within the law when taking and publishing photographs from public buildings anywhere in the European Union. This is necessary to embrace our European Culture and Art!
*As Julia Reda, member of the European Parliament, points out, even the private upload of a photograph on Facebook would need the consent of the architect, as with the upload you grant Facebook a license to commercially use the photograph.
Please help by signing the petition - https://www.change.org/p/european-parliament-save-the-freedom-of-photography-savefop-europarl-en
Wednesday, 27 May 2015
New Update - Chingford Mount Cemetery
Mood:
a-ok
Topic: Updates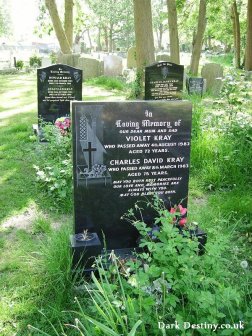 Chingford Mount Cemetery, East London was established in 1884 by the same company who owned the now congested Abney Park Cemetery in north London. The site purchased was known as the Mount Caroline Estate, so-called after the wife of the land owner.
In 1975 new owners made an application to build houses on the unused portion of the cemetery, inline with fierce opposition from locals the application was duly rejected. As a consequence the cemetery became neglected with both it's chapel and lodges becoming victim to vandals and eventually the lodges were gutted and the chapel burnt to the ground with the loss of nearly all it's records.
Chingford Mount is perhaps best known as the last resting place for the East End Gangsters the Kray Twins. The Kray family plot contains the graves of Ronnie & Reggie, brother Charlie, parents Violet & Charlie and Reggies first wife Frances Kray.
http://www.darkdestiny.co.uk/chingford-mount-cemetery.html
Another update coming within the next couple of weeks.
Best Wishes
Neil
Monday, 11 May 2015
New Update - Three Counties Asylum Cemetery
Mood:
a-ok
Topic: Updates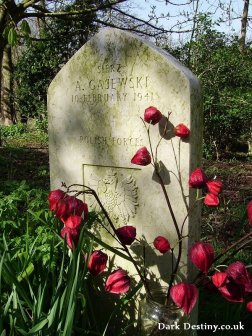 Originally known as The Stotfold Three Counties Asylum, building of the hospital commenced in 1856 on a 253-acre site between Letchworth, Arlesey and Stotfold.
The new hospital was to replace the Bedford Lunatic Asylum in Ampthill Road in Bedford, which had been built in 1812. The Fairfield Hospital was designed by architect George Fowler Jones with the longest corridor in Britain, at half a mile long. The hospital opened on 8 March 1860 with the transfer of 6 male and 6 female patients from Bedford Lunatic Asylum, and catered for patients from Bedfordshire, Hertfordshire and Huntingdonshire. The Asylum had its own chapel, farm, laundry, railway station and fire brigade.
http://www.darkdestiny.co.uk/three-counties-asylum.html
Another update in a couple of weeks.
Best Wishes
Neil
Thursday, 23 April 2015
New Update - St Luke, Hatfield, Hertfordshire
Mood:
a-ok
Topic: Updates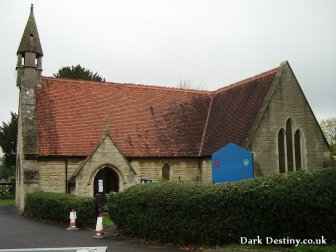 What was once a Mortuary Chapel is now a Church. St Luke's in Hatfield was built in 1877 by the Marquis of Salisbury and was converted into a church in 1893.
Today the burial ground is closed for new graves and the building is Grade 2 Listed. We visited on a cold and wet day in November 2014.
http://www.darkdestiny.co.uk/church-of-st-luke-hatfield.html
Next update in a couple of weeks.
Best Wishes
Neil
Wednesday, 22 April 2015
The Purpose of Photographic Preservation
Mood:
lucky
Topic: How it begun!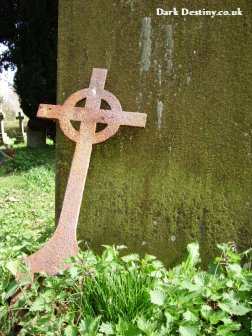 The Purpose of Photographic Preservation sometimes unfortunately becomes apparent. Recently several cemeteries and parks in west London were vandalised, it seems by one individual who, for reasons unknown decapitated multiple statues of Angels.
Fortunately in the case of the Margravine Cemetery the damage has been repaired, that still doesn't make the initial act justifiable, but at least the memorials survive into the future.
http://www.getwestlondon.co.uk/news/west-london-news/vandalised-fulham-cemetery-statues-returned-9084854
Not long after we photographed Woodgrange Park Cemetery in East London the newly restored war memorial was vandalised and the bronze cross stolen. At the time we, by chance, appeared to have the only photos of the memorial since it's restoration and was able to provide copies for a future DVD on the subject of war and East London.
Unfortunately DDP cannot possibly photograph every cemetery and graveyard in the UK, we just haven't the resources, but along with other active photographers and websites I'm sure we can make an impact.
In years to come all our photographic archives will be donated to the appropriate historical societies as our contribution to photographic preservation.
Best Wishes
Neil
Monday, 13 April 2015
New Update - Leavesden Asylum Cemetery
Mood:
bright
Topic: Updates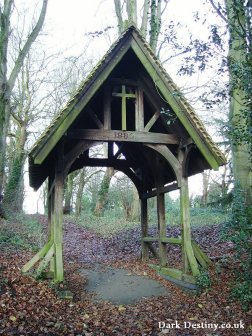 Leavesden Mental Hospital was founded in 1870 on the outskirts of Abbots Langley by the Metropolitan Asylums Board as the Metropolitan Asylum for Chronic Imbeciles. At the same time the St Pancras Union Workhouse established an Industrial School across the road. In 1920, the asylum was renamed the Leavesden Mental Hospital. The London County Council took control in 1930. In April, 1932, the former St Pancras Industrial School was taken over as an annexe for chronic cases. The hospital closed in 1997.
http://www.darkdestiny.co.uk/leavesden-asylum-cemetery.html
Our next update, in the next week or two, will be another churchyard photographed at the beginning of last Winter.
Best Wishes
Neil
Sunday, 5 April 2015
On the road again!
Mood:
a-ok
Topic: Updates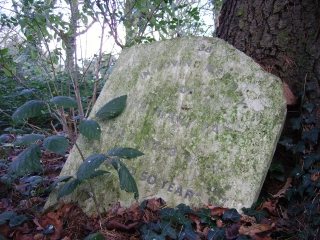 Spring has sprung and it's time to hit the road again. The long winter months are behind us so shortly we will be traveling the East and Southern Counties of England visiting new places of interest.
My brother in-law and I have already decided on several locations including a very notorious London Cemetery which we have never visited before.
Due to the time it's taken to produce the new site we haven't managed any updates for a few months so we still have three outstanding updates from 2014. Time allowing these will be seeing the light of day in the coming weeks/months.
Although we enjoy what we do it's still important to remember the purpose of Dark Destiny. Photographic preservation is our purpose, as our history is being swallowed up by urban sprawl the photos people take now may be all we have left in years to come.
Best Wishes
Neil
Friday, 20 March 2015
New site launch
Mood:
bright
Topic: Updates

After several weeks of solid work the new site is ready to launch at midnight.
Their's still much work to be done, mainly behind scenes, but we are ready as far as being a functional site is concerned. In the coming months we will add descriptions to each image but with 1800 photos thats gonna take some time.
In the meantime if you come accross any faults or problems please let me know via the contact form.
Roll on midnight!
Best Wishes
Neil

Sunday, 15 March 2015
New site coming soon!
Mood:
bright
Topic: Updates

We haven't updated for a while and that's because we decided to hold the new updates while we re-built the site using new software. This wasn't something we wanted to do, but it needed to be done to ensure our web presence into the future. Trying to recreate 10 years of work over again in a new site has been a time consuming task but we're 70% done and hope to launch the new site next Saturday 21st March.
The new site has some improved aspects but also things which we don't want but are forced to go with. For example, downloading photos will no longer be possible without using other software for a screen grab. To compensate we will be willing to provide original copies of photos for anyone who requires them, either for personal or commercial reasons. However that will be time consuming on our part so we will be asking for a small donation to help cover our time plus to help restrict requests. After next weeks launch and some time to rest from site building we will look at ways of changing this aspect, though at the moment the only option open to us would be so labour intensive it would take years to rebuild the site :(
However an advantage of the new site will be mobile compatibility, this will allow people to use the maps provided for each location via their mobile phones while on the move.
Overall we hope the new site will be a positive step forward into the ever advancing world of web usability.
Time to get back to work, see u soon.
Neil