Saturday, 15 December 2007
15th December 2007
Mood:
cheeky
Topic: Margravine Cemetery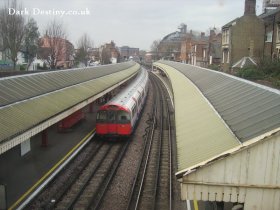 My wife has noticed that the withdrawals have started to set in, which means a Cemetery Photography session is immanent. My last photo trip was back in September (I think) when we spent the day at Brookwood, so a fix before Christmas is a must.

The wind having a chill factor of -2.2 degrees lead to the decision of a small Cemetery in an attempt to prevent hyperthermia taking hold. But despite these conditions all the persuasion in the world would not convince my thirteen year old daughter that a warm coat was a must. In the immortal words of one of her friends "Fashion is everything" the end result was of course a blue shivering chav with attitude.

Upon our arrival at Kings Cross our chosen cemetery was a single tube journey away on the Piccadilly line to Barons Court. Near the exit of Barons Court my eleven year old son notices the gents toilet and instantaneously develops the extreme need to visit the little boys room. We all expelled a loud groan because it seems more then coincidence that every time we pass a toilet he must go and go now. I think over the past few years we must have stopped off at every dam toilet in London. I have, as any concerned parent would, raised the subject of his toilet obsession in one of our father/son chats. I didn't really get to the psychological root of his problem as he promptly retorted with his own question asking me "what did I expect when he had a father obsessed with cemeteries". With that I really had no choice but to agree and silently curse the little smartarse when his back was turned.

The gents at Barons Court has a large window offering a birds eye view of the station below and to the extreme left we spied our target Cemetery. While my, now relieved, offspring was busy scrutinizing the soap dispenser and washing his hands I thought the scene outside the window would make a nice picture. Having taken a few snaps it suddenly occurred to me that maybe standing in the gents toilet with camera in hand was probably not the wisest of things to do. So quickly concealing the camera again we made our exit and took the short walk round the corner to greet the Margravine Cemetery.
The Cemetery was a little bigger then I had visualized but the monuments were quite sparse due to bomb damage and a little clearance operation by the council.

I got straight to work hoping to be done within the hour so as to prevent the moans and groans from my little clan. Unfortunately, for them that is, the further across the Cemetery I got the more I found to photograph.

The path through the Cemetery seems very well used as a rat run from the tube station to Charing Cross Hospital. There was no shortage of funny stares and looks of bewilderment from passers by at that odd geezer in a variety of strange positions with a camera, but by now I'm too bloody cold to care and to be honest I'm pretty much use to it anyway. My biggest form of harassment that day came in the form of some very cheeky squirrels who would insist on posing within my shot trying to steal the limelight.

Before leaving we met a pleasant lady with her Cavalier King Charles Spaniel who had an obsession similar in scale to my son's toilet one. This particular K9 had a deep fascination for the bold squirrels and demanded at least one walkies per day in the Cemetery so she could observe and sometimes enjoy a little frolic with her furry friends.
Having bid farewell to the squirrels we made our way back to the station and managed to pass the toilet without incident. Heading north to Piccadilly Circus we changed to the Bakerloo line and made our way to the Imperial War Museum in an attempt to warm up. After an hour or so in the museum my half frozen chav with attitude began to lose her blue tinge and turned to a more life like pale pink with red glowing ears to match mine.

We spent the rest of the afternoon wandering around the museum for which I highly recommend, as it managed to captivate both my moody kids which is no mean feat. Upon leaving the daylight had turned to night and the temperature had dropped even further. Out of interest we travelled north again to check out the new International St Pancras railway station to see what all the recent fuss was about. After spending an hour wandering around I concluded that the most impressive part of the station had to be the massive statue on the main concourse. I couldn't help but think what a nice grave monument it would make and I could clearly visualize it perched on the roof of my planned mausoleum in years to come.

Our family tradition at the end of a day's cemetery crawling found us pigging out in our favourite Mc Donald's in Kings Cross. It may sound sad, but our home town has recently declared itself too posh for a Mackey D's, so when in London we have to take advantage (not to mention we're cheap skates) and dine in a down to earth manner.

I'm not sure if I mentioned this before but my son's other great obsession is trains. The next hour was spent nerding over the thundering class 43's, 91's and the not so impressive Hull Trains. Having almost become part of the furniture at Kings Cross he was even treated to a GNER triple chocolate muffin by a generous member of staff. After a final emotional visit to the gents at Kings Cross we headed for the suburban platforms to catch our train homeward bound.

Well that's about it for now, the next cemetery outing probably won't be until 2008 so until then have a Peaceful Christmas and a Happy New Year.
Posted by mindpotion Network at 10:44 PM GMT
Updated: Monday, 3 November 2008 10:43 AM GMT
Newer | Latest | Older