Saturday, 12 January 2008
12th January 2008
Mood:
mischievious
Topic: Cemetery Marathon

Much to my relief Christmas is over with and we seem to be bombarded with TV adverts for various methods of weight loss at present. Everything from Slimfast to Weight Watchers but no mention of a marathon cemetery crawl to burn off those extra calories.

The day dawns with a grey sky but with promising chinks of sunlight, after a night of heavy rain we decide the forecast of a dry day in London might just be right. So after a frantic hour and a half of preparation we are positioned nicely on platform one with ten minutes to spare before our train is due. Actually that's not strictly true, three of us are on platform one, my toilet obsessed son is on platform two.....yes, you guessed it.....in the toilet.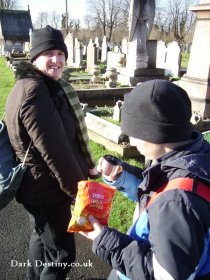 We arrived at Kings Cross just before 9.30 to both disappointment and joy. The disappointment because my son requested the use of the gents which we duly refused him as it had only been 42 minutes since his last number one. But the joy helped quell his imagined desperation, for in platform 7 was an almost vintage Class 86 electric locomotive complete with British Rail livery coaches and a matching DVT.

We stopped for a few minutes to take a snap or two of this unusual train and watched in amusement as a 60ish year old man threw a complete tantrum because people (including me) kept walking along the platform and spoiling his camera shot.

Heading underground we took a Northern Line train to Bank where we changed for a Central Line service to Stratford. Once at Stratford it was a short overground journey to our target area of Manor Park.

Earlier I used the word marathon, well within close proximity of Manor Park station there are three Victorian cemeteries. The first one on the list was a 15 minute walk north from the station and was of course the City Of London Cemetery. Having visited before I only really had one thing I wished to achieve, something which passed me by the first time I was there in 2006. My aim was simply to find the two graves of unfortunate victims of Jack the Ripper, the notorious Victorian serial killer.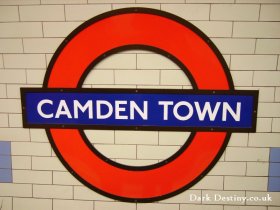 Now finding two graves in a 200 acre cemetery is no mean feat, but for once in my life I was prepared. Armed with a map and some good directions from www.casebook.org, I sent my little troops off to scour the Memorial Garden. After ten minutes things were looking bleak and I was considering the possibility of admitting defeat and also regretting the intense reassurance I had given my wife that this little mission would be a piece of cake. Thankfully, and much to my relief I stumbled upon (literally) the metal plaque which marks the approximate grave location of Catherine Eddowes. Armed with the knowledge that the second grave was the other side of the path, my eagle eyed daughter soon yelled at me in a less then graceful manner to indicate the discovery of Mary Ann Nichols who was believed to be Jacks first victim.

Mission complete we headed back to the railway station where positioned conveniently along side is Manor Park Cemetery our second on the list. A pleasant well maintain cemetery which out of interest also happens to be the burial place of Annie Chapman another of Jack the Rippers victims. Unfortunately Annie's grave no longer exists as it was reused many years ago and even the Cemetery staff can only give a very rough idea as to where she once laid. An uneventful hour and a half was spent wandering in the winter sunshine taking a few photo's which of course will appear on Dark Destiny in due course. After a short stop for a flask of chicken and veggie soup we set off for our final cemetery of the day.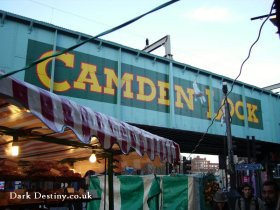 Heading south from Manor Park Cemetery and taking a right at the road junction within 20 minutes we arrived at Woodgrange Park Cemetery. I strongly advise anyone against visiting this place as in my opinion it is a total insult to all who have been interred there and their surviving relatives. The cemetery is still in private ownership and still in operation but quite how they get away with it I'll never know. I'll go into more detail when I publish the photo's but for now the following words will suffice, rubbish, mud, water, swallow holes, bulldozer and total neglect.

Leaving the depressing Woodgrange Park behind we re-traced our steps back to Bank Underground station and boarded a train for Camden Town as I was in the market for a new leather jacket. To my total surprise I bagged my jacket within fifteen minutes of our arrival leaving the rest of the afternoon free to wander the famous markets at our leisure.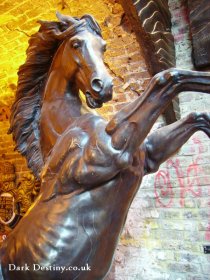 By five o clock it was dark and we were all pretty knackered so it was time to head for Mac D's in Euston Road back at our starting point of Kings Cross.

Fed, watered and of course toileted we made ourselves comfortable on about the only bench near platform one at Kings Cross station so our son could watch the intercity trains a while before boarding our suburban service home. The journey back to the Dark Destiny residence was accompanied most of the way by a blinged up female chav bellowing into her mobile phone at 90 decibels to some guy called Daniel who wasn't sure if he was gay or not. After 20 minutes of listening to this Catherine Tate sound alike who really was not bovvered about her intrusive manner, I couldn't help but think that maybe Woodgrange Park had a purpose after all.

Well that's it for now. Yet again I've no idea as to when the next outing will be, it might even be an openday during summer. But on second thoughts I don't think I'll last that long, do you?

Til next time,

Take Care
Posted by mindpotion Network at 5:01 AM GMT
Newer | Latest | Older