Sunday, 1 June 2008
31st May 2008
Mood:
silly
Topic: Hanwell Cemetery

It's been a very hectic few months of late, with the sudden death of my father-in-law last November, life has become even busier then usual. Photographic trips in and around London have had to take a bit of a back seat for the moment and with the rising cost of living and train fares (it now cost me £30 or $60ish each trip) I have decided not to attend any open days this year but instead I aim to visit other significant London Cemeteries to add to the Dark Destiny collection.

Recently I splashed out on a new SLR camera, I felt the need for a higher spec camera which would give me greater flexibility as well as more gadgets to play with. I've spent the last few weeks in some local church yards putting my new toy through it's paces. I was fairly happy with the initial results although I have a long way to go before using it becomes second nature. So planning our latest trip I decided to take my old camera as a psychological crutch just in case of new camera nerves. It meant extra baggage which is never a good thing but in the end everything turned out well and I'm reasonably pleased with the results.

What the new camera does mean, is that hi res versions of most future photo's may be made available to purchase for interested parties. I must admit, I'm not entirely sure that's an avenue I want to go down but it's something I may consider as a means of helping to expand DD nationally and possibly internationally, as has been discussed recently at Dark Destiny towers.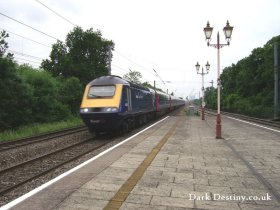 Anyway, back to our latest outing which was well timed (not) to coincide with the now infamous Circle Line drinks party. To reach our destination we took a Heathrow Connect service from Paddington to the lovely old fashioned Hanwell Station in west London. This pleased my train mad son immensely as the through lines at Hanwell are heavily used to the point where there is barely five minutes between either high speed express services or the slow clanking freight trains which thunder through constantly. Just one thing (before I forget), if anyone should consider visiting this area make sure you don't attempt it on a Sunday as it would appear that no trains stop at Hanwell and you will most certainly end up at Heathrow airport instead.

Our targets for the day seem to have somewhat of an identity crisis as both Cemeteries on the Uxbridge Road have signs calling themselves Hanwell Cemetery. Looking on our street map the northern cemetery is named as Kensington & Chelsea and on the southern side of Uxbridge Road the cemetery is shown as Hanwell. But just to confuse things further the latter also has a nice plaque on the gate displaying the name "City of Westminster Cemetery", so for the purpose of DD we shall go with the names Kensington (northern) and Hanwell (southern).

Navigating our way along the Uxbridge Road my soul almost departed my body as a passing motorist gave us two short but unexpected honks on their horn. Upon checking my flies I discovered that everything was intact and the reason for the loud greeting remained a mystery. After regaining composure we got our bearings and decided to photograph the Kensington Cemetery first.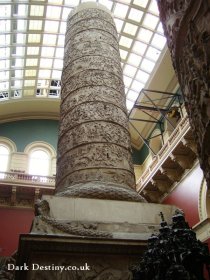 The immediate thing that struck me upon entering under the Gothic stone arch is how well cared for the cemetery is. The further in we walked the more impressed I became. The centre of the cemetery is dominated by the chapel which in turn is surrounded by a fantastic selection of impressive statues and monuments. The whole chapel area has a feeling of time standing still, the only outside modern noise being that of the aforementioned railway. The whole time we were there we saw only one other person which makes this the most tranquil cemetery we have visited in a long time.

After pausing for refreshments we made our way back out to the Uxbridge road where we crossed over and found the entrance to the Hanwell Cemetery. The first thing that attracts one's attention is the large Arama mausoleum which towers over a small scattering of other less imposing mausolea and monuments. Yet again the cemetery is impressively cared for by the council and is indeed a true credit to them and their staff.

We spent a good couple of hours taking photo's and enjoying the peace before heading back to Hanwell station. Yet again while walking the Uxbridge Road we were tooted by another passing motorist, I always thought that we had a fairly inconspicuous presents but it seems I may have been wrong (again). Back at Waterloo we headed for South Kensington where we paid a visit to the Victoria and Albert Museum and to round off the day we parked our bums on Finsbury Park station at 8.30pm in the hope of having a listen to the Bruce Springsteen concert that was taking place at the near by Emirates Stadium. We were a little disappointed as the wind was blowing in the wrong direction but we did manage to hear a few snippets of "I'm on fire" before boarding our train back to Dark Destiny towers.
I'm not sure when our next trip will be but if you have any suggestions as to what cemetery we could visit next then please do let us know, the only requirement is that it has to be from the Victorian era as the modern cemetery has very little of monumental interest.

Over the next few months we have photographic updates from Mortlake, Paddington, Kensal Green, Great Amwell, Kensington and of coarse the lovely Hanwell, so check back soon, bye for now, Neil
Posted by mindpotion Network at 12:25 AM BST
Updated: Monday, 3 November 2008 12:41 AM GMT
Newer | Latest | Older