Friday, 31 October 2008
31st October 2008
Mood:
not sure
Topic: New Addition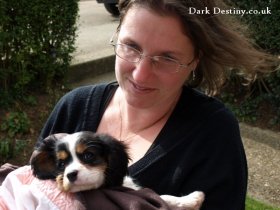 Received news today that my operation to remove the cancer from my bladder won't be until December. My consultant has tried every trick in the book to get things sorted quicker but there are just not enough available operating slots, even to pay private at over four thousand pounds will not get it done any quicker.

Thankfully he thinks it will make no difference to my long term health but when you have cancer which could be removed in a minor procedure lasting around 30 minutes it is very frustrating (and uncomfortable) having to wait so long.

Back to more cheerful things! To cheer my wife up and to take our minds off things we have a new addition to the family. Meet our new puppy "Hugo" or more appropriately "Hurricane Hugo". His fast, smelly, destructive, stubborn and far too clever for his own good but my wife loves him to bits.

Yesterday we updated the site with some photo's of Hanwell Cemetery which were taken back in May this year and coming soon will be photos of Brockley and Ladywell Cemetery.

Until then, be good.
Posted by mindpotion Network at 11:45 AM BST
Newer | Latest | Older