Thursday, 7 May 2009
Dead Art on Sky Arts 1
Mood:
a-ok
Topic: Fame at Last

The Dead Arts television series is currently being shown on Sky Arts 1. The episode featuring West Norwood Cemetery in London which also gives a glimpse or two of my family and I is being aired on Monday 11th May at 7.00pm and Tuesday 12th May at 8.30am.
Regards
Neil
ADDED 11th MAY
Well it looks as if Sky made a little error, they broadcast the wrong episode. I would imaging the West Norwood episode will be screened tomorrow night at 7.00 and Wednesday morning at 8.30 but we'll have to wait and see

Posted by mindpotion Network at 4:49 PM BST
Updated: Monday, 11 May 2009 7:53 PM BST
Thursday, 6 November 2008
6th November 2008
Mood:
mischievious
Topic: Fame at Last

Last year a film crew spent time filming at West Norwood Cemetery for a TV documentary called "Dead Art". The filming also included the cemetery open day, and yes you've guessed it my mug appears in a couple of scenes.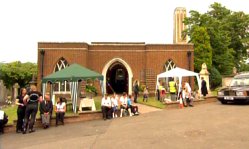 Sat right in the middle of the shot above, on the wall, is my family and I.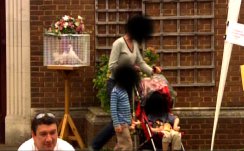 And here in the bottom left hand corner is yours truly having a little rest between taking pictures

If you would like to buy a copy of the DVD then the "Friends of West Norwood Cemetery" still have a few copies available for £8.50 each inc p&p. Details can be found on their website http://www.fownc.org/
Posted by mindpotion Network at 11:29 PM GMT
Updated: Friday, 7 November 2008 9:10 AM GMT
Newer | Latest | Older