Monday, 24 November 2008
Photo Update
Mood:
a-ok
Topic: Brockley/Ladywell

As promised yesterday (well kind of) we have updated the site with our photo's of Brockley & Ladywell Cemetery. From all our outings this year these photo's are my favourite, the weather and light were just perfect.
As usual you can access the photo's via the homepage.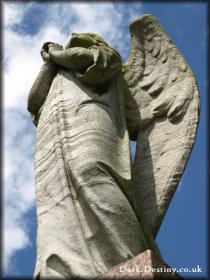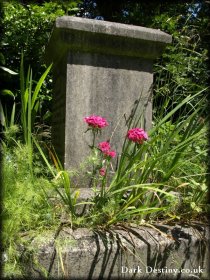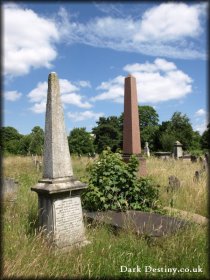 See you later!
Neil

Friends of Brockley & Ladywell Cemeteries - http://www.foblc.org.uk
Posted by mindpotion Network at 1:11 PM GMT
Updated: Saturday, 29 December 2012 5:19 PM GMT
Saturday, 28 June 2008
28th June 2008
Mood:
surprised
Topic: Brockley/Ladywell

It was a day of highs, lows and frustration. The morning round of tea, toast and nagging the kids to get ready was going well and to scheduled, but, I was just about to put my boots on to leave when the telephone rang.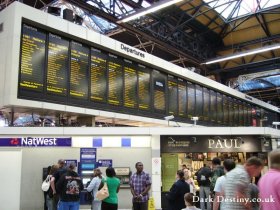 Unfortunately the call brought news of the sudden admission to hospital of my wife's Grandmother who has bravely been fighting cancer for the past 3 years. After my wife had finish talking we had long since missed our train and so we set off in a sombre mood to catch the next service to Finsbury Park.

Once there we took the tube to Victoria mainline station but arrived just seconds after the 10.43 service to Sevenoaks had departed. With half an hour to wait for the next train we watched the display board intently so we could pounce on the designated platform once it had been allocated. Thankfully we didn't have to travel all the way to Sevenoaks but only had to go as far as Crofton Park which took around twenty minutes of clanking through the maze of tracks which head into Southeast London.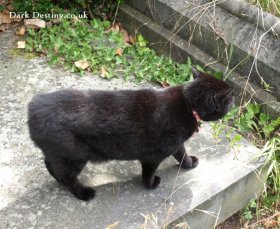 Upon arrival a right turn at the station exit and a short walk later we were greeted with the sight of the charmingly overgrown Brockley and Ladywell Cemetery. Up until 1948 these were two entirely different cemeteries which just happened to be next door to each other but when the local council took ownership they sensibly merged them into one.

The plan was simple, we would work our way through from the Brockley side and exit via the Ladywell gate and head back into town via Ladywell station to London Bridge. Unfortunately, as with most things that day it didn't quite go according to plan.

Within minutes of our arrival we were greeted by the tailless cemetery cat who accompanied us for around the first hour of our visit. I can only assume this friendly lady cat lived in one of the cemetery lodges as it's collar gave it's home address as Brockley Cemetery. We worked our way through the Brockley side and soon arrived at the Mortuary Chapel which was surrounded by some impressive but also bomb damaged monuments. That said, rumor has it that there are still two unexploded bombs nestling within the cemetery, so tread carefully should you ever visit.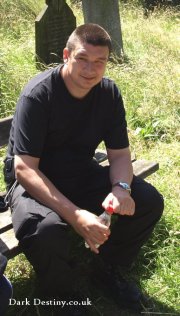 Having found a bench my wife and kids decided to have a sit down and a drink as the sun was getting fairly hot. Not being one to sit still for long I decided to go and explore on my own which turned out to be a very time consuming mistake. Just to clarify, I'm very good at finding our destination (especially a cemetery where I seem to possess a sixth sense), but finding my way back has always been a problem, one which is safely dealt with by my wife's excellent sense of direction. Anyway, after 10 minutes or so I found a whole new section which we had somehow missed on our way through. I took some photo's and moved on where I found a new part still under construction, after a few photo's my phone rang which alerted me to the fact that I had already been gone around 45 minutes. Of course it was my wife asking where I was and how long was I gonna be? I told her I would be heading back shortly and that was my intension, but again fate intervened.

Now the next hour reminded me of the 1978 film "The Legacy" starring Roger Daltrey. The beginning of the film involves a couple who were lost in the English countryside, they drive around for hours trying different routes but always ending up at the gates of this spooky mansion. Well to put it bluntly, that was me! I walked around for what seemed like bloody hours taking different routes along narrow tracks with six foot high foliage each side but every ten minutes or so I ended up at the Brockley gates. It didn't matter what way I went I just couldn't find my way back. The sun was beating down on me, my legs were full of thorns and I just had to admit that I was lost.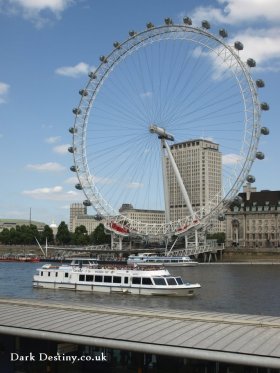 Pausing for a moment I realised that I had two choices, I could wait for dusk and try to navigate by the stars or I could swallow my pride and ring my wife's mobile. Fearing I might not survive the desert heat until nightfall and I may well fall prey to vultures (see how the heat and solitude were getting to me) I opted to call my wife.

When she stopped laughing we arranged for me to stay put once I found the Brockley gates again and she and the kids would meet me there. By the time I had found the said gates again they were already waiting and I can assure you they made no attempt at protecting my feelings as for the rest of the afternoon I was subjected to constant jokes and jibes.

The time was now getting close to 3 'o clock so any hope of visiting another cemetery were abandoned. Instead we had a short walk along the South Bank near the London Eye and then headed to Camden Town for a relax by the canal.

As usual I'm not sure of when our next outing will be although I've already decided on the destination. During most of the summer holidays we have no trains at the weekends on our usual line into London but we do have the Great Eastern route into Liverpool Street to fall back on. But then again maybe I should save the train fare and buy myself a SatNav instead.
Friends of Brockley & Ladywell Cemeteries - http://www.foblc.org.uk
Posted by mindpotion Network at 10:19 AM BST
Updated: Saturday, 29 December 2012 5:42 PM GMT
Newer | Latest | Older