Friday, 10 July 2015
Freedom of Panorama is saved!
Mood:
bright
Topic: News

In the words of Nico Trinkhaus who started the petition to save our photographic rights;
10 Jul 2015 — Your voices have been heard by the European Parliament and by the European Commission! After handing over the half a million signatures on Wednesday, the parliament voted yesterday with a big majority against any restriction of the Freedom of Panorama!
When I handed over the petition to MEP Julia Reda, she was "overwhelmed by the responses to the petition" and stated that "the petition has changed the debate in the parliament considerably and a lot of the parliamentary groups that originally voted for a restriction of Freedom of Panorama are clearly changing their mind about this."
And the debate changed indeed – even MEP Jean-Marie Cavada, who started everything with his proposal of restricting the Freedom of Panorama in the first place, called upon the other members of the Parliament to vote against his own amendment. Many politicians brought the Freedom of Panorama up in the debate and mentioned that they've received "hundreds of e-mails and letters" from concerned people – from you!
Also the European Commission gave a clear statement by Commissioner Günther Oettinger that they "don't intend to restrict the Freedom of Panorama". Instead he says that "what you can see with your eyes as a citizen, on public places and streets in Europe, you should be allowed to also photograph it with a camera."
The primary goal is accomplished. The parliament voted under applause that the existing Freedom of Panorama is not taken away from anybody and we can all take a deep breath. However, we do not forget about photographers from France, Italy and other countries that currently don't enjoy this Freedom. We hope that the European Commission understood that this essential freedom has to apply all over Europe and we will closely monitor the proposal for the copyright reform by the European Commission that is due by the end of the year.
I thank you all for raising your voices and I'm glad that the parliament listened to our concerns!
Posted by mindpotion Network at 12:15 PM BST
Wednesday, 1 July 2015
The Freedom of Photography is at Risk
Mood:
d'oh
Topic: News

Sites like Dark Destiny Photography are now under threat from the EU. Please read below and consider offering your support, many thanks!
On 9 July 2015, the European Parliament might destroy photography.
The Freedom of taking photos in public places is under attack. Until now, in most countries in Europe you were safe to take and publish photographs that are taken from public ground – This is called Freedom of Panorama. When you were on vacation, you could take a photo from the London Eye and share it with your friends on Facebook*. If someone wanted to pay you for using this photo, that was okay as well. But this is about to change may destroy photography as we know it.
Julia Reda, member of the European Parliament, tried to bring the Freedom of Panorama to all countries of the EU, as few countries like France and Italy don't have such law yet. In the majority of countries such as the UK, Spain, Portugal, Germany, Netherlands, Poland, Czech Republic, Slovakia, Hungary, Austria and Croatia, you're safe to take, publish and sell photos of public buildings when taken from public grounds.
However, the current draft turned the proposal upside down. Instead of bringing the Freedom of Panorama to the few countries that don't know such law yet, it would take it away from all those who do. With this, Street-, Travel- and Architecture-Photography would be dead as we know it. It is impossible to find out the architect of every public building in order to ask for permission before you can publish and possibly sell the photo.
I therefore call on the members of the European Parliament to
Not limit the Freedom of Panorama in any way
and instead to
Bring the Freedom of Panorama to all member states of the EU
so that the European Citizens can be assured to act within the law when taking and publishing photographs from public buildings anywhere in the European Union. This is necessary to embrace our European Culture and Art!
*As Julia Reda, member of the European Parliament, points out, even the private upload of a photograph on Facebook would need the consent of the architect, as with the upload you grant Facebook a license to commercially use the photograph.
Please help by signing the petition - https://www.change.org/p/european-parliament-save-the-freedom-of-photography-savefop-europarl-en
Posted by mindpotion Network at 12:55 PM BST
Thursday, 11 September 2014
Domain Server Transfer
Mood:
a-ok
Topic: News

We apologise for the down time which is due to the transferring of our domain name to a new host. Everything should be back to normal in the next few day.
In the mean time the site can still be viewed via this address - http://darkdestiny.co.uk
We still have more updates in the pipeline but we'll wait until everything is back up and running.
Best Wishes
Neil
Posted by mindpotion Network at 10:36 PM BST
Updated: Sunday, 5 April 2015 2:18 PM BST
Saturday, 8 September 2012
Joy of Death in Bournemouth aims to break taboos
Mood:
chatty
Topic: News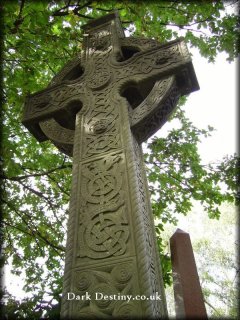 Wedding fairs are commonplace around the country as happy couples prepare for their big day.
Mention the concept of a funeral fair to help plan your final farewell and the initial reaction might be a combination of shock and surprise.
But in Bournemouth this weekend, more than 150 people from inside the funeral industry are gathering for the peculiarly titled "Joy of Death Festival".
Now in its second year, not only does it exhibit which coffins to buy or what hearse to ride in the back of, it also recognises the "unsung heroes" of the bereavement business.
For the first time, they will get their moment in the spotlight at The Good Funeral Guide Awards.
Embalmers to grave diggers, florists to coffin suppliers receive their own "Oscar" for excelling in their field.
While the idea might seem morbid to some, the awards and conference aim to debunk the taboos around dealing with death and grief.
'Hollywood-style'
The idea of Bournemouth resident Brian Jenner, he turned his love for the US television series Six Feet Under into a chance to showcase what can be made of planning for your "send off".
He said: "Six Feet Under brought a kind of Hollywood-style to how funeral directors deal with death and grief.
Full Story from BBC
Posted by mindpotion Network at 12:14 PM BST
Friday, 24 April 2009
Brookwood Cemetery boss on trial
Mood:
a-ok
Topic: News

A cemetery boss accused of hiring a hitman to kill his late father's lover suspected her of poisoning the elderly man, an Old Bailey jury has heard.
http://news.bbc.co.uk/1/hi/england/surrey/8015271.stm
Posted by mindpotion Network at 12:45 AM BST
Thursday, 19 March 2009
Cremation metal sold for charity
Mood:
cool
Topic: News

Metal body parts which survive the cremation process are being recycled for charity in Somerset.
http://news.bbc.co.uk/1/hi/england/somerset/7952150.stm
Posted by mindpotion Network at 9:41 PM BST
Tuesday, 3 March 2009
Memorial Stability Testing
Mood:
chatty
Topic: News

Walking the dog this morning my wife and I took a wander through our (very) local cemetery. Our attention was attracted by the sound of an extremely loud pneumatic tool which was being used in the distance. Being the curious kind we walk towards the activity to see what was going on and found a scene which I think will probably cause a considerable local stir.
Dozens of headstones from the eighties and nineties had been or were in the process of being staked and strapped in the name of health and safety. The visual impact was deplorable and to be honest made my blood boil.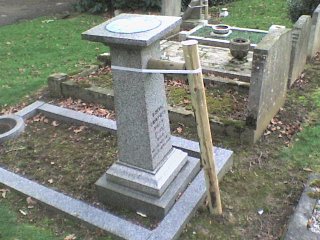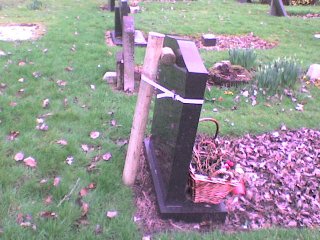 We walked towards the newer graves where my father in-law is buried and even found a few staked headstones there, one of which was less then a year old. On our way out I stopped one of the men doing the work and asked the criteria for staking. The man in question turned out to be very amenable and spent 15 minutes explaining and demonstrating the reasons behind the seemingly drastic actions that were being undertaken.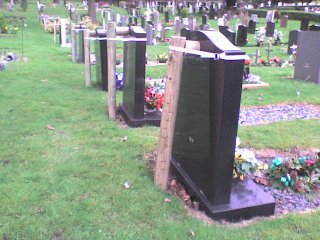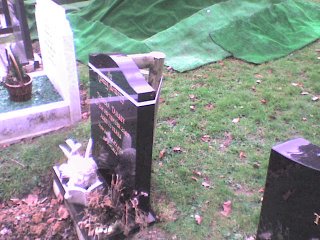 Walking over to a medium size headstone he gently push at the top and the whole thing began to tip backwards. The reason he said was the stonemason had failed to secure the base onto the ground rods (if they existed) leaving the memorial fairly unstable, had anyone inadvertently leaned on the stone the whole lot would of gone over. This headstone along with dozens of others had not been erected according to the regulations and was basically illegal, his exact words were "if the masons complied with all the regulations they wouldn't still be in business".
The end result of all this work is that the relatives of the deceased would be contacted (if possible) and asked to rectify the problem, if they fail to do so then the stones will be laid flat forever. The good news though, memorials under 30 years old should be rectified by the mason responsible under the "reasonable durability" clause of the consumer goods act, although this may require a little bit of pressure from "trading standards" or a court.
The amazing part of all this though is the oldest Victorian memorials (except a couple) had, despite their age, passed the 35kg topple test. This really does say an awful lot about Victorian workmanship in comparison with todays feeble attempts, but as they say "thats progress for you".
Take care all
Neil
PS. pictures and video taken with my out of date mobile

Posted by mindpotion Network at 4:26 PM GMT
Updated: Tuesday, 3 March 2009 6:35 PM GMT
Persons ashes found in theatre
Mood:
d'oh
Topic: News

More old news, but worth sharing

A pale blue box containing what are thought to be a dead person's ashes has been found at the Empire Theatre in Liverpool.
http://news.bbc.co.uk/1/hi/england/merseyside/7472371.stm
Posted by mindpotion Network at 12:11 AM GMT
Mourners paid for distant burials
Mood:
d'oh
Topic: News

A little out of date I know!
Mourners are being paid to bury their loved ones elsewhere by a council which has run out of graveyard space.
http://news.bbc.co.uk/1/hi/england/london/7598611.stm
Posted by mindpotion Network at 12:06 AM GMT
Monday, 2 March 2009
Burial fee hike for wider coffins
Mood:
d'oh
Topic: News

A Bedfordshire council is increasing the amount it charges to bury people in wider coffins.
http://news.bbc.co.uk/1/hi/england/beds/bucks/herts/7919230.stm
Posted by mindpotion Network at 11:14 PM GMT
Updated: Monday, 2 March 2009 11:18 PM GMT
Newer | Latest | Older