Monday, 6 April 2009
Haunted Aldgate
Mood:
a-ok
Topic: Jack the Ripper

Saturday 4th April
It's been what seems like an eternity since our last trip into London, infact it was August last year when we went to Putney Vale which was about a week before I finally admitted I was ill and needed help.
The trip into town was not intended to be a photography outing but as always I took along my small camera just in case. Infact the day before was our 16th wedding anniversary and my kind mother offered to have the kids and the dog for the weekend so we could do as we pleased.
Late morning we trundled into Kings Cross and boarded the Northern Line to one of our favorite haunts, that of Camden Town. I must admit after being out of action for what seems like a long time, the hustle and bustle of Camden was a little over whelming and a couple of hours there was enough. Re-tracing our steps we went back to the relative peace and quite (compared with Camden) of Kings Cross where we had a sit down and a good feed before deciding where to go to next.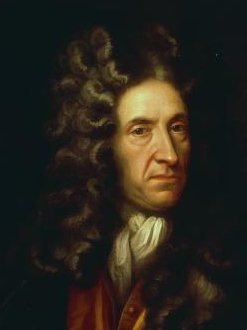 Daniel Defoe
The previous evening, while laying in the bath, I had been reading "Haunted London Underground". The story of Aldgate station and it's many ghosts had made a fascinating read. The conclusion many have come too for the prolific hauntings at the station is the disturbance of one of London's largest plague pits while the station and it's tunnels were under construction. The pit was dug in the graveyard of St Botolph's church and was written about by Daniel Defoe in 1665:
I went all the first part of the time freely about the streets, though not so freely as to run myself into apparent danger, except when they dug the great pit in the churchyard of our parish of Aldgate. A terrible pit it was, and I could not resist my curiosity to go and see it. As near as I may judge, it was about forty feet in length, and about fifteen or sixteen feet broad, and at the time I first looked at it about nine feet deep; but it was said they dug it near twenty feet deep afterwards in one part of it... Into these pits they had put perhaps fifty or sixty bodies each; then they made larger holes wherein they buried all that the cart brought in a week... At the beginning of September, the plague raging in a dreadful manner, and the number of burials in our parish increasing to more than was ever buried in any parish about London....they ordered this dreadful gulf to be dug - for such it was, rather then a pit...the pit being finished the 4th of September, I think, they begun to bury in it the 6th, and by the 20th, which was just two weeks, they had thrown into it 1114 bodies when they were obliged to fill it up.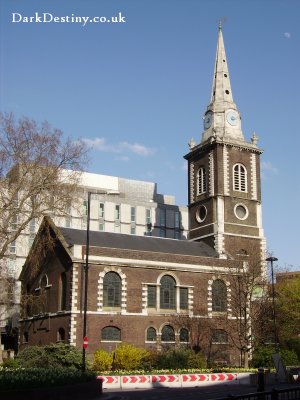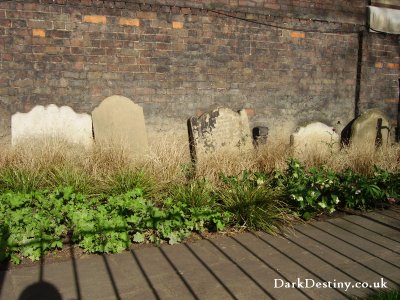 Also very close by to Aldgate station is the infamous Mitre Square. The square was the site of Jack the Rippers fourth murder, that of Catherine Eddowes. The exact spot where her mutilated body was found is marked on the side of a building in white paint.
So that was it, Aldgate station was our next destination. Back on the Northern Line we headed in the opposite direction from Camden to Moorgate, then changing lines to the Metropolitan we shortly arrived at Aldgate station.
Alighting the train on the semi open air platform my wife Linda immediately commented that she didn't like the feel of the place. I must admit, even I felt a foreboding heaviness in the atmosphere, was it purely psychological, I don't think so, I'm not really a person who's open to suggestion, in other words the placebo effect has never worked on me.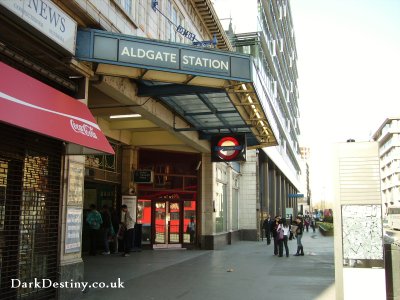 Leaving the station we turned right and a few paces along was the church of St Botolph. No real graveyard exists now, just a small grassy strip along one side with a row of stone slabs lying flat to the ground and a small line of headstones standing flush to the church wall. Somewhat disappointed I took a few snaps and then we set about finding Mitre Square.
Looking on a map at a bus shelter we could only find a Mitre Street and no mention of a square. Not really having much choice we made our way to and soon found Mitre Street. With the famous Gherkin skyscraper looming overhead we wandered down this short narrow road and within seconds we were standing in Mitre Square. Resembling very little of what the area must have looked like in 1888 we searched around the deserted square looking for the painted sign which marks the spot of the Rippers fourth slaying. To the far right corner was a small narrow alley way which lead back to the main road, and it was there that Linda found what we were looking for.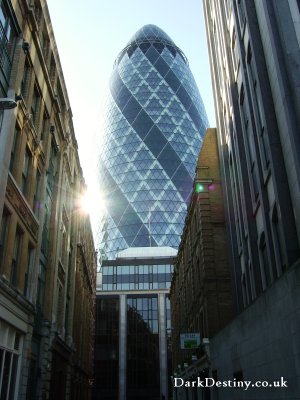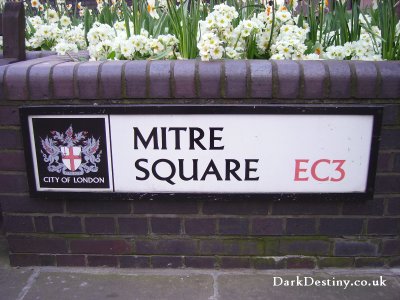 Feeling rather pleased with ourselves I took a few photo's of the site before we walked back to the main road where we headed towards the Gherkin for a closer look. It's hard to imagine now that this area of London was the scene of such a terrifying period of time, a period of time which has left such a legacy for the history books and such a heaviness in the atmosphere, a heaviness which lingers on despite the modern buildings and towers which replace the slums and free houses of the Victorian era.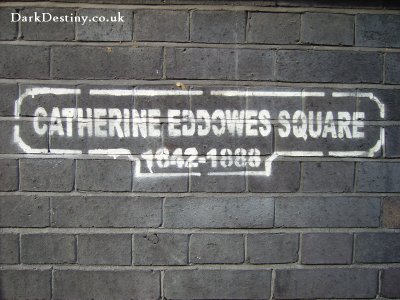 Never being much of a fan of the Gherkin tower, I must admit it is fairly impressive close up. It was late Saturday afternoon and it was almost deserted but I could imagine there being quite a buzz on the plaza during the week when the tower comes alive, yet again another stark reminder of the contrast between the two eras.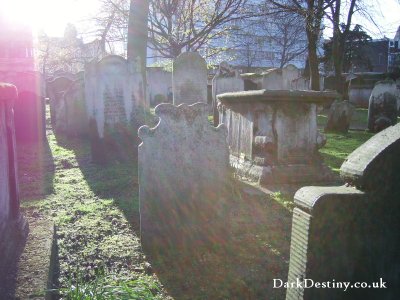 On the way back to Kings Cross we stopped off on the Northern Line at Old Street. A few minutes walk from exit five is the legendary Bunhill Fields non-conformist burial ground. Four acres and 120,000 interments this ancient burial ground is like no other, it oozes an atmosphere of defiance and is the final resting place of many an important person, such as Daniel Defoe who we mentioned above. This wasn't my first visit, but it was for my wife, who was busy nosing around Buckingham Palace when I was here previously. Being late in the day the attendant wasn't there to unlock the gates for full access so I had to make do with a few shots taken from between the railings.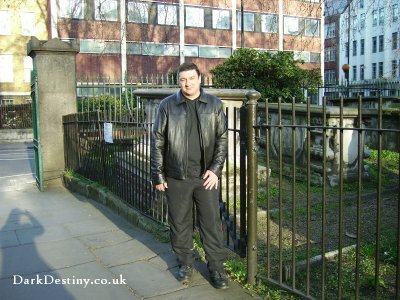 The last photo of the day was taken by my wife, the subject of course was I, standing by the railings in Bunhill Fields, just to prove I'm back.
Posted by mindpotion Network at 11:03 AM BST
Updated: Monday, 6 April 2009 11:56 AM BST
Newer | Latest | Older