Thursday, 27 May 2010
Unexpected Photography at Ayots
Mood:
a-ok
Topic: Abandoned Churches

Last Sunday it was the "radio nerds" event of the year. Anyone who's anybody in radio goes to the Luton Radio Rally held every year in May. My son and I went along with a friend to spend the morning browsing the vast quantities of radio rubbish (as my wife calls it) and acquire a nice sun tan in the process.
It was on the way back which is the part of interest to this blog. Due to a wrong turn we ended up taking a different route home, and nearing Welwyn Garden City I spied a sign for the village of Ayot St Lawrence. This immediately brought to mind a couple of locations which I have been meaning to photograph for a long time, but life on many aspects has prevented me from doing so thus far. Two of the Ayot villages have sites of interest which a gentleman recommended to me via email many months ago.
So our first stop was the derelict old church of St Lawrence. Although it was partially demolished in 1775, because it was obstructing the view from Sir Lionel Lyde's new home, it appears to be well cared for and a lovely place to photograph on a sunny day.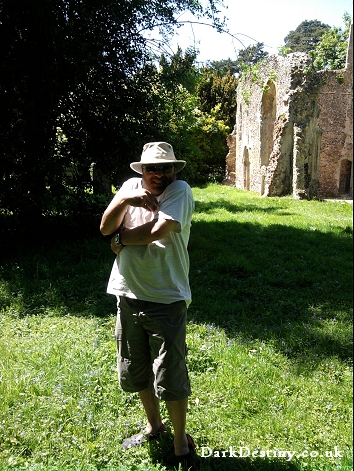 Fellow friend and explorer strikes a pose at St Lawrence
Our second stop was a small abandoned burial ground which we believe to once of been a church yard, although no sign of a church building is evident. Situated in the village of Ayot St Peter the ground is almost invisible to the passing visitor and it was only my prior knowledge of it's existence that allowed us to find it. Heavily overgrown it contains two impressive tombs complete with iron railings another two less extravagant tombs and a small array of headstones as well as the complete skeletal remains of what we think was a deer.
Unfortunately I didn't have a decent camera on me so the photos I took are less then ideal. However my friend and I decided we would spend a day visiting all the abandoned churches and chapels in the area and photograph them with better equipment later in the summer, however I will add the photos I took last Sunday as a temporary measure but will replace them later this year after our grand church tour 2010. So check back in a week or two for them.
Posted by mindpotion Network at 12:35 PM BST
Newer | Latest | Older