Derek Acorah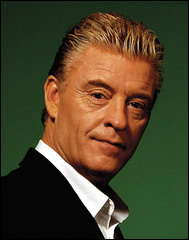 Derek Acorah is the stage name of Derek Johnson (born January 27, 1950), taken from his grandmother. He is a popular but controversial English cable and satellite television personality, who has come to fame as a psychic medium on such shows as Most Haunted.

His early life was spent in Bootle, Sefton, England, where, according to his several books, he first discovered his psychic abilities and became interested in Spiritualism. He says that in this period, he first contacted his spirit guide, 'Sam', said to be an Ethiopian from approximately 1,500 years ago, with whom Derek was friends in a previous life (some of Derek's beliefs appear to reflect Kardecism as well as Spiritualism).

He pursued a career as a footballer for many years, playing for Liverpool F.C. Reserves, where he played alongside Emlyn Hughes and predicted the Liverpool captain would have a car crash - the day afterwards when Hughes had written off his car, Bill Shankly told Derek to leave his psychic abilities at home, and just play football. After release from Liverpool, Derek played for Wrexham A.F.C and Glentoran, before emigrating to Australia to continue to pursue his footballing career.

On his return to Liverpool, Derek (Johnson) Acorah worked for Littlewoods Warehouses as a security guard, at their Derby Lane and subsequently J.M Centre buildings, for six years from 1979 to 1985 prior to beginning to practise as a medium, and soon gained a popular local following. His first book, The Psychic World of Derek Acorah, was co-written with his then manager, John G. Sutton. Sutton took Acorah to the USA, where he was ISPR-tested in the field and allowed to join the International Society for Paranormal Research (ISPR) headed by Parapsychologist Dr Larry Montz. As one of the psychic investigators of the ISPR team, Derek participated in six field investigations in England for the 1999 award-winning documentaries, ISPR Investigates Ghosts of England and ISPR Investigates Ghosts Of Belgrave Hall, created and produced by Dr Larry Montz and Daena Smoller.

Derek Acorah remained an ISPR investigator until 2006. He then appeared on Psychic Livetime on a local Manchester station, Granada Breeze, and went on to host his own show, Predictions with Derek Acorah. Following the closure of that station, he was chosen by LivingTV as the resident medium on their 2002 series Most Haunted, which shot him to national fame.

Another LivingTV series, The Antiques Ghost Show, lasted one series. LivingTV has made the series Derek Acorah's Ghost Towns, featuring Derek Acorah visiting a range of towns throughout Great Britain and investigating psychic phenomena in ordinary homes and businesses. The other, Derek Acorah's Search for Guy Fawkes was screened on Guy Fawkes night in 2006. This programme took Derek to scenes involved in the life of Fawkes and the Gunpowder Plot.

He appeared for one line in the 2006 Doctor Who episode Army of Ghosts: "Well, no one needs me anymore." In the episode, strange fluorescent, immaterial figures appeared regularly worldwide, and Derek's line was one of several short clips of fictional TV from the episode. On Tuesday 4th September 2007 Derek Acorah returned to Living TV with a new series called Paranormal Egypt. In this new series Derek toured Egypt investigating its ghost stories and alleged paranormal activities.

The above was sourced from wikipedia
In more recent years Derek has hit controversy during some episodes of Most Haunted where he repeated fake names which where planted by other crew members. These incidents are widely reported elsewhere on the internet and I feel it serves little purpose to recount them here again.

In my opinion, I don't think there are many mediums who at some stage in their life have not resorted to some underhand methods when put under extreme pressure to perform. In fact Doris Stokes openly admits in one of her books that she once made an attempt to sneak some information out on stage in case she couldn't make any spiritual connections with the other side due to nerves. This attempt backfired on her and she vowed never to try and cheat again.

I have only seen Derek live on one occasion which was at the leisure complex in Stevenage Hertfordshire. During the first half things just didn't seem to come together and Derek ended up picking out random audience members and giving them readings direct rather then the normal method of platform mediumship.

In the second half however things really came together and the significant part of the evening came when Derek told a lady in the audience that a close friend of hers was about to win the lottery. The following week came reports on the radio and in the newspaper of a Stevenage lottery winner whose friend was foretold of the win by Derek Acorah the previous week.
Derek appeared on the James Whale Radio program in the UK on 31st October 2007, to listen click here