The Science behind Yoga and Stress
Mood:
happy
Topic: Yoga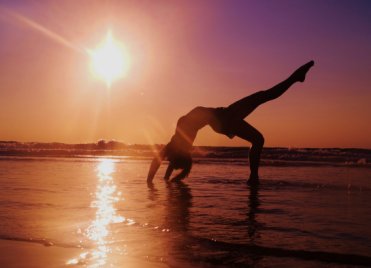 By Dr M Storoni MD PhD on Tuesday July 14th, 2015
What does bending your body into yoga poses do to your brain chemistry and nerve connections?
There are two functional parts of the brain that play a key role in stress. These serve the functions of emotion and cognitive function. So I am calling them the 'emotional' brain (amygdala and its connections and medial forebrain structures including the medial prefrontal cortex) and the 'logical' brain (the dorsolateral prefrontal cortex, other parts of the prefrontal cortex, parts of the cingulate cortex and parts of the hippocampus).
The emotional brain is able to initiate a 'stress response' via the sympathetic nervous system which culminates in adrenaline and cortisol racing through our circulation. The logical brain is always trying to 'turn-off' this stress response and it is also trying to restrain the emotional brain. The stronger our logical brain, the better it becomes at doing these two things. When the stress response is 'turned off', our parasympathetic nervous system signal is 'turned on'. This signal 'relaxes' the body. So a strong logical brain goes hand in hand with relaxation.
The stress response and 'relaxing' signals travel through the body along a particular route and parts of this route have little 'switches' which we can physically manipulate to turn the signals on or off. The neck is an example of where such switches are located (by the carotid arteries).
Training the stress circuit
Yoga is training this entire stress circuit at two levels. First, every time we are 'holding' a posture, staying very still to concentrate or trying to balance, our logical brain is being activated. When we are bending forwards, our 'relaxation' signal is being turned on through the 'switches' in the neck. So bending forwards and concentrating at the same time is triggering both the logical brain and the relaxation signal at the same time.
Bending backwards triggers the stress response signal through the switches in our neck. Contracting a muscle also triggers the stress response signal. So, when we bend backwards and contract our muscles while still having to stay still and concentrate on balancing, our logical brain is given an extra challenge. It has to overcome the stress response signal being triggered in these two ways before we can be still and concentrate during a posture. This 'extra' resistance the logical brain is having to work against, 'trains' it like a muscle.
Read more - http://upliftconnect.com/yoga-and-stress/
Posted by mindpotion Network at 12:14 MEST