Jupiter moon Io, holds magma ocean
Mood:
a-ok
Topic: Space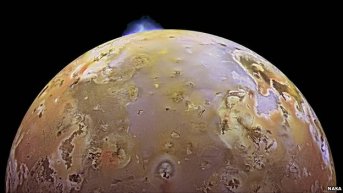 Io is the most volcanic world in the Solar System and scientists think they now have a better idea of why that is.
The moon of Jupiter erupts about 100 times more lava on to its surface each year than does Earth.
A re-assessment of data from Nasa's Galileo probe suggests all this activity is being fed from a giant magma ocean under Io's crust.
Researchers tell Science magazine that this blisteringly hot reservoir is probably some 50km (30 miles) thick.
Full Story from the BBC
Posted by mindpotion Network at 15:39 MEST