Living in blissful solitude with 120 giant tortoises
Mood:
bright
Topic: Inspirational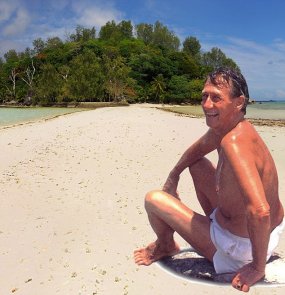 Surely it's what many of us dream about while trudging into the office during another April downpour.
Why not escape the rat race and the grey skies to live on a sunny tropical island?
Brendon Grimshaw has done just that. In 1962, the Yorkshireman bought Moyenne - a small island just half a mile wide - in the Seychelles for the princely sum of £8,000, and he has been living there ever since.
The sprightly 86-year-old wakes to the sound of rustling palm trees and the Indian Ocean lapping against the shore.
He spends his days caring for the island's tortoises and birds that also call it home.
When he bought Moyenne, it was overgrown with scrub so dense that coconuts could not fall to the ground. But Brendon worked tirelessly to transform the island into his own little patch of heaven.
Living in this unique wildlife reserve, he has survived tropical storms, sharks, ghosts, a coup d'etat in the Seychelles and a mercenary raid.
Full Story from dailymail.co.uk
Posted by mindpotion Network at 01:01 MEST
Updated: Wednesday, 2 May 2012 11:02 MEST